Thế giới vừa trải qua một tuần đau thương sau một loạt những vụ khủng bố đẫm mu do cc phần tử Hồi Gio cực đoan thực hiện ở Paris khiến 17 người thiệt mạng. Vụ việc đ lm chấn động ton cầu v một lần nữa cảnh tỉnh tất cả cc quốc gia trước sự nguy hiểm của chủ nghĩa khủng bố. Tại cc thnh phố lớn trn thế giới, từ London, Berlin đến New York, người dn khắp nơi bằng nhiều hnh động khc nhau đ by tỏ sự chia sẻ với nhn dn Php v mạnh mẽ ln n hnh động v nhn đạo của bọn khủng bố, đồng thời thể hiện tinh thần kinh quyết bảo vệ quyền tự do ngn luận, tự do bo ch. Tm điểm của chuỗi sự kiện ny, ngy hm qua, 40 nh lnh đạo thế giới đ cng hội ngộ ở Paris v đặc biệt cng tham gia vo một cuộc tuần hnh lớn nhất trong lịch sử nước Php với hơn 3 triệu người dn xuống đường biểu thị quyết tm đẩy li chủ nghĩa khủng bố. Hy cng English4ALL theo di bản tin tm tắt từ VOA News v học thm nhiều từ mới nh. All aboard!
LET JOIN THE ANTI-TERRORISM MARCH IN PARIS WITH 40 WORLD LEADERS!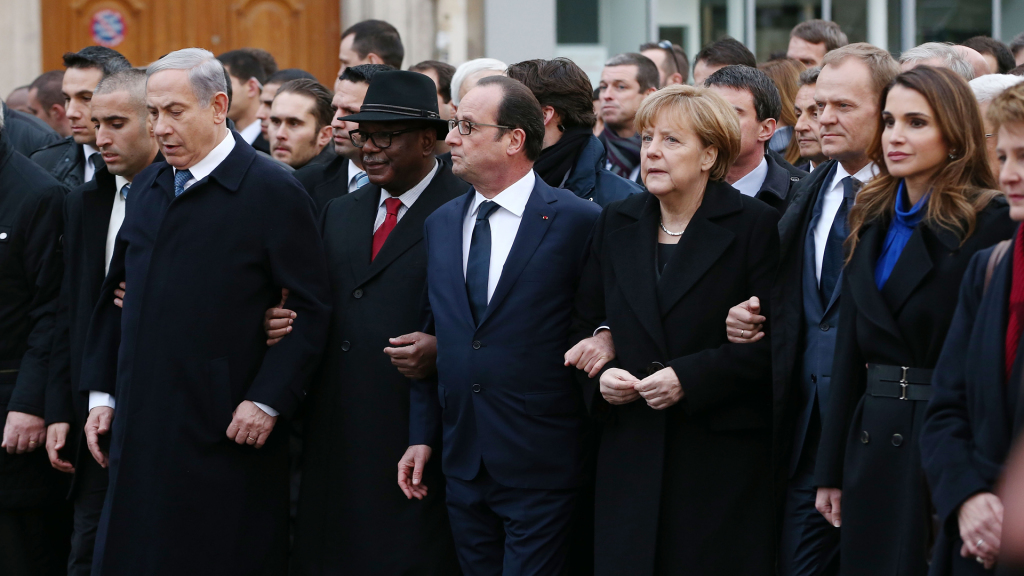 World leaders joined nearly 4 million people in the streets of Paris and around France Sunday, in solidarity with the victims of a terror spree last week that killed 17 people.
More than 40 heads of state and government joined French President Francois Hollande in linking arms for a brief walk through Paris. Immediately to Hollande's left walked German Chancellor Angela Merkel and to his right Malian President Ibrahim Boubacar Keita. France intervened to help fight Islamist rebels there two years ago to the day.
Other leaders included Israeli Prime Minister Benjamin Netanyahu, Palestinian President Mahmoud Abbas and Russian Foreign Minister Sergei Lavrov. U.S. Ambassador to France Jane Hartley represented the United States at Sunday's event.
French officials said it was the largest street demonstration in the country's history.
Late Sunday, the Interior Ministry said at least 3.7 million people demonstrated across France. A ministry spokesman said that 1.2 million to 1.6 million people had marched in Paris and about 2.5 million people in other cities around the country.
Several thousand police and military forces were deployed to the streets as well.
A massive crowd remained outside for hours, filling the the route between two of the capital's major plazas, Place de la Republique and Place de la Nation.
The Paris terrorist attacks are the worst in recent French history. They have left many here – like teacher Edith Gaudin – in shock.
"I'm fed up with all the hatred in the world. I can't stand people hating each other. More than just free expression, I want people to live together and to accept each other, even if they are different," Gaudin said.
After world leaders left the march, Hollande stayed to greet survivors of the Charlie Hebdo attack and their families.
Later Sunday night, Hollande and Netanyahu attended a memorial ceremony at the Grand Synagogue in Paris for the victims of Friday's terror attack at a kosher supermarket.
At the synagogue, Netanyahu thanked French citizens, including Muslims, for speaking out against terrorism and anti-Semitism.
From VOA News
Send your translation of the news or any question to English4ALL Team right here!
Your Name (required)

Your Email (required)

Subject

Your Message

SOME WORDS YOU DON'T KNOW, DO YOU?
in solidarity with (n): tnh đon kết với (ai/ci g)
Agreement between and support for the members of a group, especially a political group:
Eg: The situation raises important questions about solidarity among member states of the UN.
The lecturers joined the protest march to show solidarity with their students.
Victim (n): nạn nhn.
Someone or something that has been hurt, damaged, or killed or has suffered, either because of the actions of someone or something else, or because of illness or chance:
Eg: to provide financial aid to hurricane/flood, etc. victims
victims of crime
The children are the innocent/helpless victims of the fighting.
The new drug might help save the lives of cancer victims.
a terror spree (n) chuỗi vụ tấn cng khủng bố; đợt, vụ…(ăn chơi)
a short period of doing a particular, usually enjoyable, activity much more than is usual:
Eg: I went on a drinking/shopping/spending spree on Saturday.
20 people were shot dead in the city, making it the worst killing spree since the riots.
in linking arms (n) khoc tay nhau.
intervene (v): can thiệp
to intentionally become involved in a difficult situation in order to improve it or prevent it from getting worse:
Eg: The Central Bank intervened in the currency markets today to try to stabilize the exchange rate.
[+ to infinitive] The minister intervened personally to stop the museum from being closed.
Rebel (n): kẻ nổi loạn, phiến loạn
Aperson who is opposed to the political system in their country and tries to change it using force, or a person who shows their disagreement with the ideas of people in authority or of society by behaving differently:
Eg: The rebels took over the capital and set up a new government.
He was a bit of a rebel when he was a teenager and dyed his hair pink.
Foreign Minister(n): Ngoại trưởng – Bộ trưởng Bộ Ngoại Giao.
U.S. Ambassador to France (n) Đại sứ Hoa Kỳ tại Php
Demonstration (n): Tuần hnh, biểu tnh
( informal demo) an occasion when a group of people march or stand together to show that they disagree with or support something or someone:
Eg: The students are holding a demonstration against the proposed changes.
Protesters staged an anti-war demonstration.
Interior Ministry (n): Bộ Nội Vụ. (Bộ Nội vụ Php tương đương với Bộ Cng An – Vietnam)
Deploy (v): triển khai (qun lnh)
to move soldiers or equipment to a place where they can be used when they are needed:
Eg: The decision has been made to deploy extra troops/more powerful weapons.
Massive(adj): lớn, rất lớn, ngoại cỡ
very large in size, amount, or number:
Eg: They have a massive house.
She died after taking a massive overdose of drugs.
the hatred (n): sự th hận,
an extremely strong feeling of dislike:
Eg: What is very clear in these letters is Clark's passionate hatred of his father.
The motive for this shocking attack seems to be racial hatred.
Survivor (n): người sống st.
a person who continues to live, despite nearly dying:
Eg: He was the sole (= only) survivor of the plane crash.
She's a cancer survivor/a survivor of cancer.
a memorial ceremony (n): Buổi lễ tưởng niệm.
a kosher supermarket (n): Chợ bn đồ Do Thi; kosher – đồ ăn chế biến theo luật Do Thi
(of food or places where food is sold, etc.) prepared or kept in conditions that follow the rules of Jewish law:
Eg: kosher food/meat
a kosher restaurant/butcher/shop
synagogue (n): đền thờ của người Do Thi
anti-Semitism (n) Chủ nghĩa bi Do Thi, th ght Do Thi.
the strong dislike or cruel and unfair treatment of Jewish people:
Eg: Nazi anti-Semitism forced him to emigrate to the US
HONG HUY.
Bản quyền thuộc về English4ALL.vn
Bản tin dẫn nguồn từ VOA News.